Physiotherapy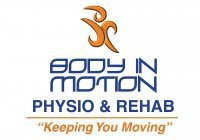 Body in Motion Physio - Now conveniently located in The Gym Tauranga.
Body in Motion's affordable, quality physiotherapy and other health services can help you get the most out of life, work and play. Their 18 physiotherapists are among the Bay of Plenty's most qualified, with experienced specialists in; aged health, sports medicine, occupational health, post-surgery rehabilitation and neck and back pain. Body in Motion are the preferred physiotherapy provider to the Bay of Plenty's top sports organisations, including the Bay of Plenty Rugby Union and High Performance NZ.
The team at Body in Motion use the latest evidence-based technology, to ensure you reach your potential. Their hands-on approach includes techniques such as; massage, spinal manipulation, joint mobilisation, acupuncture and exercise therapy.
Body in Motion is certified and audited by Health and Disability Auditing New Zealand, ensuring the practice meets the highest quality standards in the health sector. Staff are members of the New Zealand Society of Physiotherapists and adhere to the society's code of ethics. Body in Motion is a contracted provider to the Accident Compensation Corporation (ACC) and also provides services to other insurers such as; AON, Care Advantage, Catalyst Risk Management and Well New Zealand.