Fit3D Body Scan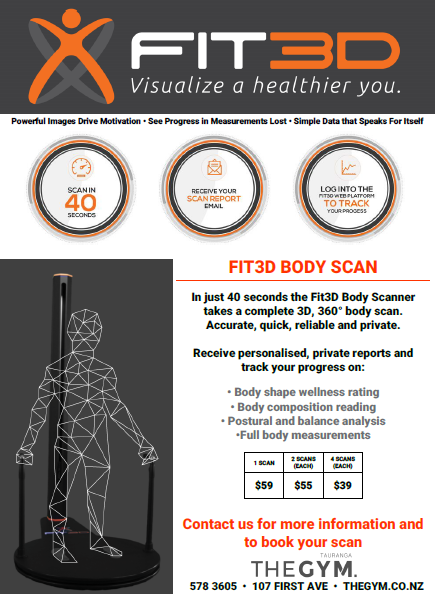 How does the Fit3D Body Scanner work?
It takes over 1200 photos of you using 3 infrared cameras'
Over 400 measurements are generated
Results are available within minutes
The posture report will be available within 24 hours
Is it safe?
Same technology as Microsoft Kinect, used in millions of households world-wide
No electrical signals or current
Artificial implants and pace makers are safe
How can it help?
Increased motivation – with increased accountability
Give members non-biased, independent results
24/7 online access – no loose bits of paper
Education tool for body composition and posture
Age Limit
The Gym Tauranga will not scan anyone under the age of 18 years unless there is a specific training benefit that will be gained from the scan.
Pre-test sign up and information for best results
To save time at your appointment, it is recommended to create an account beforehand at https://dashboard.fit3d.com/signup#/
Wear tight underwear
Do not exercise 3 hours before your test
If you have long hair, you will need to tie it up in a bun
Do not have a large meal or drink copious amounts within 2 hours of your test